Research
The Centre for Sustainable Food Systems (CSFS) is an interdisciplinary and inclusive hub for solutions to local and global food systems sustainability.
CSFS is a living lab, providing researchers with a research platform where social, economic, and environmental interventions can be designed, tested, and monitored within a living food system. Research opportunities span the whole seed to plate continuum while integrating many disciplines and sectors to provide global leadership for change leading to resilient and secure future food systems. The CSFS provides diverse research space for farm trial and wider research. For new research or collaborations, submit a research proposal or contact us.
News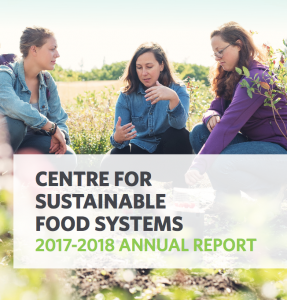 CSFS Annual Report 2017-2018 Did you know: Last year we grew 109,000 pounds of food, we had 30 active research projects, 2,300+ UBC students engaged in CSFS-related courses, 7,000 food literacy program participants, and 12,000 participants in 542 community events! Our CSFS Annual Report captures the achievements of our diverse programs and the milestones we […]
Join our newsletter
Stay up to date on news, events, and more.
Subscribe