Choux Pastry Basics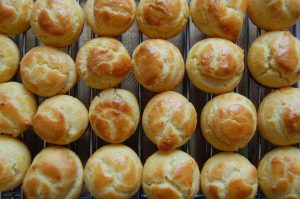 About this Workshop
Come learn the art of the new pastry craze straight from France – "Pâte a Choux"! Known to some of you as "choux pastry", this is a family of desserts that are all made with the same delicious, airy dough base. In this class you will learn how to make: Choux a la crème (cream puffs), Profiteroles, Chouquettes, and Eclairs. No baking experience? No problem! This class is perfect for the beginner baker. Choux pastries are easy to make at home, and require no expensive equipment, fancy ovens, or uncommon ingredients. With Valentine's  foolproof techniques, you will soon be wowing your friends and family with your delicious choux pastries! Participants will get to pipe and decorate their own pastries during the workshop, and everything will be shared. What you can't eat, you can bring home, with printed recipes to boot!
About the Instructor

Valentine (AKA Tartine of Tartine & Maple) is a French cook who's passionate about cooking and baking. She teaches cooking classes, mostly French food and baking, in the Vancouver area! Trained in culinary skills from France, Valentine has worked for catering events in prestigious Champagne mansions and in various locations in Paris. Valentine is now an Uncommon Baker at the funky and eclectic "The Uncommon Cafe" in Vancouver. Tartine & Maple's mission is to demystify French food and make it fun and accessible for all!
Date and Time
Wednesday, September 18 | 5:30 – 8:30 pm (3 hours)
Location
UBC Farm
3461 Ross Drive, Vancouver BC
Cost
$78 (regular) ($68 student) + GST