Food
Why do we cultivate food? To explore and exemplify healthy and sustainable food systems, encourage sustainable food literacy, foster socially just food systems for all, and cultivate the local food economy.
Discover the UBC Farm through your tastebuds! Get your local, certified organic, farm-fresh seasonal veggies, fruits, herbs, flowers, seeds and free-range eggs straight from the UBC Farm. Throughout the growing season, we offer farm goods through our markets, weekly CSA box, wholesale distribution, and online seed sales.
Farm Gate Sales and Farmers' Markets
Throughout the growing season we offer three markets each week, two at the UBC Farm and one at the UBC Bookstore.
Our multi-vendor Saturday markets are our biggest, bringing in dozens of vendors selling local fruits, vegetables, meats, baked goods, beverages, mushrooms, food trucks, alcohol, treats, crafts and prepared foods while local musicians entertain the crowd. Tuesday Evening and Wednesday Bookstore markets provide the opportunity to get your fix of UBC Farm goods during the week, while occasional farm gate sales are scheduled during the winter and spring and seasonal u-picks for berries, pumpkins, hops and more take place alongside our markets.
Produce and Flower CSAs
CSA is an acronym for Community Supported Agriculture.
CSAs connect farmers and consumers in a partnership creating an alternative, locally-based economic model of agriculture and food distribution. In such a partnership CSA members buy a share in the farm at the beginning of the season and then receive a weekly box of farm goods throughout the growing season. CSAs help farmers by providing income early in the season when startup costs are high, and by guaranteeing a market for the farmer's produce. In return, members receive a regular supply of fresh, nutritious produce grown in an ecologically sustainable way.
The UBC Farm CSA program provides members of the UBC campus and broader community with a weekly box of fresh, healthy, local, organic produce grown at the UBC Farm.
Program Duration
The 2019 program starts on Tuesday, June 12 and Saturday, June 15. The program runs for 20 weeks and ends on Tuesday, October 22 and Saturday October 26. However, the start and end dates may vary by one or two weeks due to seasonal variations. Regardless of the start date, the program will run for 20 weeks.
Pick-up Days and Times
At the UBC Farm Tuesdays (4:00 pm to 6:30 pm) or on Saturdays (11:00 am to 1:30 pm). During registration members commit to one pick-up day for the entire season. Members need to bring their own bags/baskets/containers to bring their produce home.
Cost
$600 membership for the season, which equates to a $30.00 value per week over a 20 week season. Pending availability, add-ons of Biweekly eggs ($80) and a Flowers CSA ($200+tax) can supplement your CSA registration. Online debit or credit card payment for the CSA Program is due at the time of registration. The payment is 80% refundable through April 30, 2019 and non-refundable thereafter.
Waitlist
Our 2019 CSA is full. If you are interested in joining the 2020 wait list, please submit your contact information here.
Important Dates:
Registration: First week of February. 2018 CSA Members are encouraged to check your emails frequently and ensure the account ubcfarm.csa@ubc.ca is added to your safe sender list.
What's in a weekly share?
The variety of the box will change week to week as we progress through the season. Each week consists of 5 to 8 items, enough for two people who eat a lot of vegetables. You can expect to receive more items in the late summer when more varieties are available. Please keep in mind we only grow three types of fruits (strawberries, blueberries and apples), all of which have brief harvest windows. The program will introduce you to lesser known veggies, as well as familiar favorites.
Check out our seasonal availability guide for more information:
| | | | |
| --- | --- | --- | --- |
| All Season Items | Spring Specialties | Summer Specialties | Fall Specialties |
| Eggs | Garlic Scapes | Annual Herbs | Apples |
| Arugula | Snap Peas | Beans | Daikon Radishes |
| Beets | Snow Peas | Beets | Fennel Bulb |
| Carrots | Spinach | Blueberries | Leeks |
| Collards | Strawberries | Carrots | Potatoes |
| Kale | | Cucumbers | Pumpkins |
| Lettuce Heads | | Fresh Garlic | Spinach |
| Mizuna | | Fresh Onions | Storage Garlic |
| Mustard Greens | | New Potatoes | Turnips |
| Perennial Herbs | | Peppers | Winter Squash |
| Radishes | | Tomatoes | |
| Salad Mix | | Zucchini | |
| Swiss Chard | | Flower bouquets | |
We are thrilled to be offering a full flower CSA for the 2019 season! A share in our flower season signs you up for a weekly bouquet from our fields: wrapped, stamped, and ready for you to take home or gift. We are excited to make these bouquets unique each week, drawing on the 40+ varieties we grow. As with our produce CSA, the flower CSA allows you to enjoy diverse blooms over the course of the season and learn about varieties that thrive in our climate, but are otherwise hard to find as they don't withstand the long-distance travel required by the conventional industry. Joining our flower CSA supports us in striving to grow flowers with as much integrity as we do food.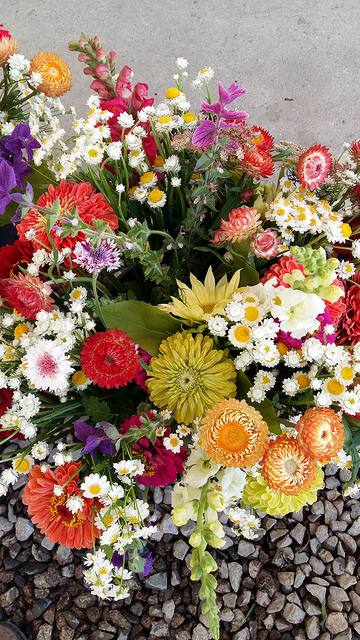 Program Duration
The 2019 season will begin mid July and run until mid September (exact start date will be confirmed as the season approaches). The program runs for 10 weeks.
Pick-up Days and Times:
Shares are picked up at the UBC Farm on Tuesdays 4:00 pm to 6:30 pm or Saturdays 11:00 am to 1:30 pm. During registration members commit to one pick-up day for the entire season.
Cost
$200 plus tax.
Waitlist
Our 2019 Flower CSA is full. If you are interested in joining the 2020 wait list, please submit your contact information here.
Important Dates
| | |
| --- | --- |
| February 2019 | Registration opens |
| Early-July | Program begins |
| Mid-September | Final pickup, program ends |
What if I don't like everything?
We encourage you to enjoy all the produce in your weekly box, even if it is not your favorite. Some things do take time to love. You may find yourself learning to love what you previously thought unlovable. Each week we will include a recipe for the week's produce in case you're unsure of how to cook it. Additionally, we do have a swap box available to trade out one of your not-so-favorite items for something you might prefer instead.
Can I purchase add-ons?
There are three ways to purchase add-ons. 1) Pending availability, members can prepay for a standing order of eggs and/or flowers during CSA registration. 2) Members can place specific orders for seasonal specialty & bulk items communicated through the CSA newsletter. 3) Members can simply purchase add-ons at the Tuesday or Saturday markets while picking up the CSA share. All non-prepaid add-on items need to be paid for at the time of pick-up. We accept cash, debit or credit cards for add-on payments.
While add-ons are subject to availability, they are always filled on a first come first serve basis. Assuming availability, members are still charged for pre-ordered add-ons even when they do not pick up their shares. Similar to your share, if your pre-ordered add-ons are not picked up they will be redistributed to avoid waste.
Are there different share sizes?
We currently do not offer different share sizes. We recommend finding a friend to split a share if you are not interested in a full share. We also limit shares to one per household in order to provide more household access to UBC Farm produce. Members wanting additional produce can always purchase add-ons at the Tuesday and Saturday markets.
Is the UBC Farm Certified Organic?
Yes! Read more about what organic means at the UBC Farm.
What is unique about UBC Farm's CSA program?
The CSA program is an agricultural marketing and distribution initiative that is part of the Centre for Sustainable Food Systems within the UBC Faculty of Land and Food Systems. While we strive to provide professional quality services to our CSA members, the ultimate goal of the program is educational. The CSA program provides experiential learning opportunities for both students and volunteers, and all financial proceeds go towards the operation of the farm. More than 2,500 students each year directly benefit from this unique learning environment.
For more information on CSA programs
Access USDA's database of publications related to Community Supported Agriculture, including surveys and statistics on the economic benefits of such programs.
Buying Wholesale
Interested in sourcing fresh, local, and delicious produce?
Please contact us for information on direct sales of UBC Farm produce.
Purchasing Flowers
Interested in sourcing freshly cut flowers from the UBC Farm?
At the UBC Farm, we believe flowers should be grown as our food is grown – locally and organic, without the use of chemicals and without travelling across the globe. By purchasing flowers from the UBC Farm, you are supporting the Farm in its efforts to cultivate a space which feeds the community, educates all ages about land stewardship, and is at the vanguard of research to continue the advance of organic growing practices.
UBC Farm Seeds
Plan your season with us
Here at the UBC Farm, we are committed to preserving our seeds as certified organic, open-pollinated, regionally adapted, held in the public domain, and GE-free. One of our core beliefs is that seed sovereignty is an essential part of sustainable bioregional food systems. That is why we are dedicated to our seed trials research with FarmFolk CityFolk, and are founding members of BC's very own Eco Seed Co-op. If you are looking for ecologically sound seeds for your garden or farm, and want to support research for the public interest, consider growing your farm or garden with our seeds.
Join our newsletter
Stay up to date on news, events, and more.
Subscribe