Student Profile: Sophie Draper, Feeding Growth Assistant
*Disclaimer: The Career Development in Land and Food Systems course is the updated title of the previously-named Career Development in Land and Food Systems Internship.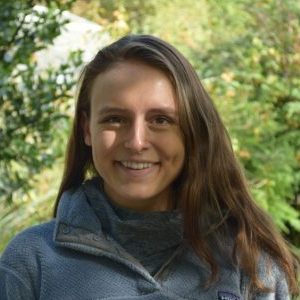 LFS 496 Feeding Growth Assistant
Supervisor: Véronik Campbell
What do you study and why does it matter to you?
I am in Global Resource Systems in the faculty of LFS as a 3rd year student. The reason I chose this program is because I am very passionate about sustainable agriculture and its movement in the food sector. The changing of our agricultural sector is going to be increasingly important – it is a revolution to come. Food has largely become commoditized and therefore it is not seen as powerful as it is anymore. Food has the potential to bring people together; it is language, culture and community. As we connect ourselves with food, we are healthier, we are happier and we are closer to people around us. But now, we've become very disconnected from our food. That disconnect has implications in all the society, in our personal lives, our relationships and our sense of well-being. I'm in this program and chose this internship particularly because I want people to look deeper to our relationship with food.
What was your work placement?
I worked with Véronik Campbell who is the Academic Program Manager at the Centre for Sustainable Food Systems at UBC Farm (CSFS). I worked on a program she helps run called Feeding Growth. Feeding Growth is a learning program for sustainable packaged food companies in Vancouver and BC where different entrepreneurs come together regardless the stage they are in. These sessions allow the entrepreneurs to collaborate to grow their business and learn more about different aspects of running a business that maybe that hadn't had access to before. As an intern, I helped run the events, run our Instagram page and at the end, I got to do profiling of companies which led me to write business profiles of them. These profiles may possibly be put on the website or our social media channels like Facebook and Instagram. Throughout my internship, I got to have a good balance of both concrete tasks and being able to have room to implement my own ideas as well.
What intrigues you about the Food System?
Just how far-reaching food is in our lives. I am constantly drawn into how much food is applicable into our lives and how there is always more to learn. Farming, for example, is incredible given how connected people are to the land. In the past people had their one-family farms and it was a very close unit of sustainable farming. Their connection to the land was much greater in terms of weather, the earth, and surroundings. As they were coming across with unimaginable scenarios, they had to learn from their experiences which makes learning endless. So, that's what fascinates me about the food system, just how interconnected we are with food or can be and how powerful than can be. We just have to make sure we hold on to that connection and don't lose it as the food system starts to change.
What was the most interesting thing you learned from your work placement?
Before this internship, I didn't know where I belonged in the food system. Business, particularly was an area I always distanced myself from. I thought of it as competitive, not about collaboration but more about profit and an individualistic. This internship was eye opening in terms of how business could be community based as well. At the sessions, we had several Kombucha companies. They were competitors but they were also working together in groups to help each other and to give each other feedback. That completely changed my perspective on how business can be community based and a collaborative effort even if you are competitors. It also taught me how I'm inspired by these community efforts. People generally want to make the world a better place and there is a lot of power that brings people to come together. And interestingly, this internship made me realize I am interested in business development and entrepreneurship. It's a lot of work and requires risks to be taken but I think I'm someone who is willing to do that.
What was your biggest struggle during your work placement?
Feeding Growth is an event that includes multiple entrepreneurs who are almost experts about the food system in BC and I saw this as a great opportunity to learn more about it myself. I'm very passionate about the food sector but I also don't know much. In order to be involved it their circle, I needed to trust myself to have conversations or to be involved overall. Thankfully, the people at the sessions were so open and friendly that they would come up to me thinking I had a company. Even though I was just an assistant, they would still be willing to engage in conversations. It was a learning experience of both the food sector and also realizing that it is okay to not know a lot – people will be willing to talk you if you are passionate about something. It was a struggle for me to enter their circle until I realized how much people are willing to share with and learn from each other.
What is your favorite plant/crop that grows at the UBC Farm?
Anise.