Saturday Farmers' Market Vendor Feature: Back for More Bites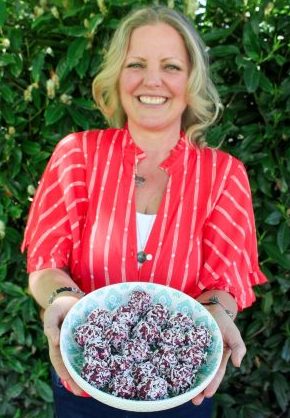 Entering its second year at our market, this week we are featuring Back for More Bites! A relatively new vendor on the scene, Back for More Bites has already made a splash serving up delicious vegan, gluten-free energy bites and cookies designed to give you the energy to catch that bus, make that spin class, or literally (or figuratively) climb mountains. Recently we had the opportunity to chat with the owner and UBC alumni, Dawn Levelton, to find out more.
How did you get started? And what inspired the idea for a nutrient-packed bite?
Back for More Bites was launched in early May of 2019. We started in local pop-ups, craft fairs, and farmer's markets and are currently working to expand into local cafes and small independent health and retail stores. I was inspired to create these nutrient-packed bites about 5 years ago when I was struggling with my own personal need for more energy and plant-based nutrients, like iron.
What are the three most important things you think customers should know about Back for more Bites?
We are all about supporting local and love connecting our consumers to all the amazing foods and ingredients we source locally, like our fresh BC fruits and sea salt.
Everything we make is made with love, intention and only the best premium quality plant-based gluten-free ingredients in a dedicated plant-based and gluten-free facility.
Our mission is to make the most delicious, nourishing and convenient plant-powered snacks everyone can enjoy and feel good about eating while honouring the animals and our planet.
Why did you choose to come to the UBC Saturday Market specifically?
UBC and the farm have a piece of my heart. Growing up on a farm and also being a UBC alumni with a major in Psych & Sociology I feel very connected to the land and the community. It is such an honour to be at the UBC Saturday Market selling my products to UBC and the surrounding community.
You have seasonal flavours of bites, how do you decide on these? What seasonal flavours can customers look forward to this summer?
Our flavours are inspired and designed mainly to evolve with what's available in season. Our year round flavours are Caramel Apple Crumble, Salted Orange Chocolate Chip and Wild Blueberry Lemon. During the summer we like to offer some seasonal flavours including Raspberry Sublime, Cherry Chocolate Brownie and Blackberry Lavender Lemon
What goes into developing a new flavour of bite?
Each flavour is initially inspired by fruit and then I build my flavour profiles and textures from there always combining each flavour with citrus and sea salt to naturally balance and preserve the bites. Trained in Plant-Based Culinary Nutrition, I play around with lots of premium nutrient rich ingredients. I then finesse the flavours and textures of each new bite based on feedback from friends, family, chefs and health conscious food lovers with active on-the-go lifestyles.
If you could only have one of your bites for the rest of your life which one would it be?
It would be the Caramel Apple Crumble bite. The flavours and textures are everything for me – and it really does remind me of apple crumble – one of my favourite desserts as a child. The only thing that's missing is the whipped coconut cream!
What else should customers know?
Not only do we sell the tastiest snack bites, but we also offer one of the best gluten-free plant-based chocolate chip cookies on the market! Our Sea Salt Chocolate Chip Cookies are sold by the dozen as Take N' Bake or by the half dozen already baked for you. All of our products please even the pickiest of palettes! Adults are addicted to our snack bites and cookies from first bite and kids love them too.
Where else can customers find you?
Customers can find us and our tasty treats at local farmer's markets on the weekends including UBC Farm, Coquitlam Farmer's Market and Squamish Farmer's Market. We also offer local delivery in Metro Vancouver on Tuesdays from 10am to 5pm. We are currently working on our eCommerce site and getting into some favourite local cafes and small independent grocers and retailers. Stay tuned! Follow us on IG @backformorebites to stay connected and follow our journey.
Market Dates | Website | Facebook Page | Instagram .