Saturday Farmers' Market Vendor Feature: Van Koji Foods
This week we are featuring Van Koji Foods, a first-year vendor at our market! Van Koji Foods has rejuvenated an ancient Japanese ingredient, Shio-koji, to create a line of delicious sauces bursting with umami flavour. We recently had the pleasure of chatting with the owner, Tomani van den Driesen, to find out more.
How long has Van Koji Foods been around? How did you get started?
I began selling Shiokoji in 2013 at the Nikkei Japanese Culture Center. I discovered Shiokoji while making my own koji (a powdery fungus grown on rice) for homemade miso-paste. After reading about shiokoji's popularity back in her homeland, Tonami decided to introduce it to local Japanese. Since 2013, Vankoji has been producing and selling Shiokoji and other koji based seasonings at craft fairs and festivals. Every year, sales have grown as more and more people from different nationalities enjoy this product in their everyday cooking.
What are the three most important things you think people should know about Van Koji Foods?
Vankojis' seasonings provide great umami flavour to both vegetables and meats.
We follow traditional methods of making our products.
Vankoji produces kome koji and seasonings locally.
What is Shio- Koji? What is its history in Japan?
When Kome koji (rice koji) is mixed with salt and water, then allowed to ferment in a warm environment, the rice grains break down into enzymes, glutamates, and sugars, imparting a mild salty taste with great umami (fifth taste) flavours. Shio koji has the appearance of a thick and lumpy white paste and looks similar to rice porridge. This is puree'd further to make it easier to use.
Use it in dressings, dips, brine, marinades, sauces, and soups. It will enhance the flavour of your food, tenderize your meats, and is good for you. This versatile seasoning does so much more than the salty taste out of the container. The live cultures within the seasoning activate the ingredients you put them on. There is such a variety of tasty applications that Shio-koji will become your favourite pantry ingredient. Benefits of Shio-Koji: First, it is very tasty. It is a natural pro-biotic seasoning. Brings the same saltiness with half the sodium. Contains minerals, fiber, and vitamins. Aids in digestion and good for general health.
Renewal in Japan – Shio-koji was lost to the Japanese culture for almost a century. It was once a common pantry item and used in every day cooking. It disappeared from the pantry shelf in the early parts of the 20th centre, around the same time that MSG was making a rise … coincidence?…. We are all fortunate that the 300-year-old miso family business looked into old family recipes and came across shio-koji's use. The owner re-introduced it to Japan in 2007. Today, once again, Shio-koji is a common everyday item in Japanese cooking. Chefs and foodies around the world are discovering this wonderful ingredient. It has been Vankoji's mission to make this available to you in Western Canada
You have four main Koji sauces ( BBQ Koji, Garlic Koji, Shio-Koji, and Shoyu Koji); how did you settle on these four flavours?
Shio-koji (salt koji) is as neutral as salt and the ingredient is incredibly versatile. It is the drive behind the business and our mission to introduce this to pantry's of all cultures. It is the continued story from my country's rediscovery of a lost product. This is our premier product and continues to be our number one seller.
Shoyu-koji (soya – koji) uses the same process as Shio-koji, but utilizing soya sauce (shoyu) instead of sea salt and water. This product was developed to provide the same taste and health benefits as Shio-koji, but replacing soya sauce in everyday Asian cooking.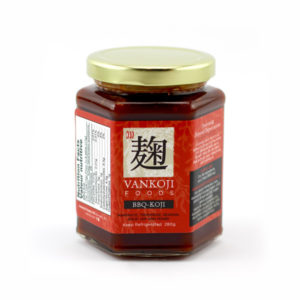 BBQ-Sauce, this product was developed as something people can quickly relate to and enjoy. A mildly spicy Asian sauce that can be used on dishes that demand strong flavours. People are able to easily imagine using this on chicken, or in a stir fry. It is still a koji based seasoning, so it introduces people to the umami and that ….mmmmmmm…something extra that they will come back to talk about.
Garlic-Koji, this product is my my training wheels. This product is simply Garlic and Pepper mixed with Shio-koji and allowed to mature further. I developed it for similar reasons to the BBQ-sauce. Give people something they can relate to and imagine in their cooking. This has proven to be my training wheels for people starting off with Shio-koji. It is hugely successful with first-time buyers as well as "seasoned" Shio-koji users. I now have many customers that buy Shio-koji as well as Garlic koji at the same time. This pre-built Shio-koji mixture speeds up your cooking process by providing a base with garlic and pepper already blended with Shio-koji. Use it straight or use it as the starter for something remarkable.

Why did you choose to come to the UBC Saturday Market specifically?
I have been at the Dunbar Christmas fair for six years and have many regular customers in the area. The people in the area are open to new ideas and eager to try quality products. I really appreciate their enthusiasm and stories. The UBC market allows me to be among this community more often.
If you could only have one of your sauces for the rest of your life which one would it be?
Shio-koji – no contest. The most neutral, the most versatile.
Where else can customers find you?
You can find me at the following locations/websites: Vankoji website, Kanadell Japanese Bakery,Coho Coffee & Commissary Online Store, Konbiniya Japan Center, Pomme Natural Market, South China Seas Trading, Suzuya Japanese Market, Vegan Supply, Yumcha Time, Vancouver Farmers markets (Riley Park, Main St., Trout Lake), and White Rock Farmers Market
Market Dates
|
Facebook Page
|
Instagram
|
Website