Work Learn Profile: Erika Luna, Sustainable Food Systems Data Assistant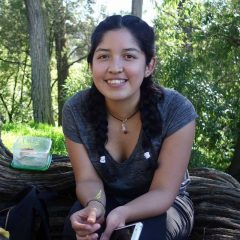 What did you work on in this role?
I cleaned, wrangled, and displayed the farm operations data.
What did you learn in this position?
I learned technical skills like using Tableau for data visualization.
Why does this work matter?
Data management and its proper communication are essential to fulfilling the UBC Farm purposes. From its role as a living laboratory to its role as a food production system, keeping records throughout time is the only way we can evaluate our practices. Moreover, sharing this data with others outside of CSFS is also extremely valuable as this knowledge could contribute to the propagation of more sustainable food systems.
What would you tell a new student taking on this role? Or what do you wish you had known?
If there is enough space to be creative and bring your own ideas into your work, do it! My supervisor, Mollie, was great at giving me space and this was definitely one of the things that I enjoyed the most.
What should people know about the UBC Farm that they probably don't know?
The farm handles a lot of data that it's open to the public at Dataverse and Tableau!
What's your favourite thing to do at the UBC Farm?
I love going to the farmers' markets.