Cluster Hire in LFS Applied Biology, Sustainable Agriculture and the Environment, and CSFS at UBC Farm
Research Seminar: Plants and Pollinators in an Era of Global Change
Dr. Risa Sargent
Associate Professor
Department of Biology
University of Ottawa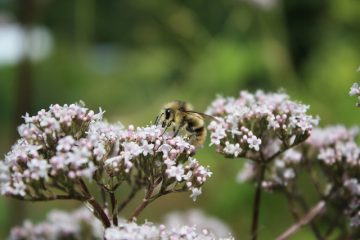 Our agricultural systems are at a critical juncture in time where a key ecosystem service, pollination, required for production of up to 75% of the world's crop plant species, is under threat. Many of the same practices that have driven yield increases over the past century, such as agrochemical use, deforestation/habitat change, tillage, declining on-farm biodiversity, and monoculture are all contributors to pollinator biodiversity decline. In this talk I describe how I apply my background in plant evolutionary ecology to address critical questions about the impacts of global change on wild and crop plant fitness. Finally, I will outline a research program that addresses questions at the interface of pollination biology, global change and agriculture, such as how land use can impact pollination and crop production in urban and suburban agro-ecosystems, how agrochemicals are impacting an important and diverse groups of wild pollinators, and how we can adapt economically important tree crops to the phenological changes in spring phenology, pollination services and/or pest populations that are likely to accompany climate change.
When and Where?
June 3, 2019 from 11:00 a.m. to 12:30 p.m.
MacMillan Building, Room 258
About the Presenter
Dr. Risa Sargent is interested in the adaptation of wild and agro-ecosystems to global change. She holds a PhD in biology from UBC's Biodiversity Research Centre where she focused on how interactions with animal pollinators influence the biodiversity of flowering plants. After a NSERC funded PDF at UC Berkeley, where she studied how pollination impacts plant community assembly processes, Risa was hired as an assistant professor at the University of Ottawa. Risa's current research focuses on applied questions about how changes to plant communities, through processes such as land use (including agriculture), climate change and species invasions impact plant fitness and crop production. Risa's resarch has been awarded funding from a variety of external sources, including NSERC's Discovery, University Faculty Award and Strategic Network programs, MITACS, and Ontario's Early Researcher and Species at Risk programs. Risa has received speaking invitations from around North America and has served as associate editor for the American Naturalist, a top journal in her field, since 2016. Risa regularly organizes events and works on policy changes aimed at improving EDI in science.
This seminar is part of the LFS Applied Biology Faculty Cluster Hire in Sustainable Agriculture and the Environment. Nine short-listed candidates will be giving seminars in May and June as part of their intensive interview process. Click here see a full list of events.