Researcher Profile: Lisa Powell, Former CSFS Postdoctoral Fellow
Current Associate Professor of Environmental Studies, Sweet Briar College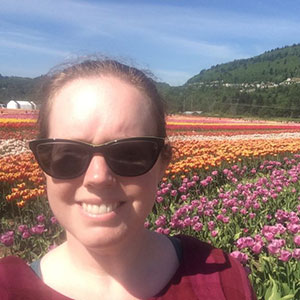 What is your title?
I am a postdoctoral researcher jointly appointed at UBC in the Centre for Sustainable Food Systems and at the University of the Fraser Valley.
What does your research with the Centre for Sustainable Food Systems at UBC Farm focus on?
One of the main focus areas of my research through CSFS is on "farm to school" programs and how they may contribute to fostering sustainable food systems. My research in this area started off looking at how institutional sourcing of local food can support farms and economic development. We have ended up also investigating farm to school programs as food literacy education initiatives and comparing how these programs have manifested in BC to other parts of the world. Even in BC schools that do not have a cafeteria to serve local food at, we still often see a lot of work with school gardens and other programs that support food literacy education, which has the potential for long term food systems impacts.
Another significant aspect of my work with the CSFS is translating research into usable formats that can be made available to farmers, food processors, and others working with food systems. In addition to being a researcher myself, I help to facilitate the sharing of the broad range of research coming out of CSFS, as well as work from our collaborators and partners. I am currently helping to build a web portal to support increased public access to research results and other resources related to food and agriculture in BC.
Why does this work matter to you?
I grew up on, and remain involved in, my family's farm, where I've had a lot of hands-on experience with food systems and in particular food production. There I developed an understanding of farming's economic realities and its relationship to environmental conditions. Because of this, I'm interested in research that can be used to help agricultural communities prosper, while also seeing the value and the need for the general public to acquire as much knowledge about food systems as possible. Even if people aren't growing food themselves, they are still stakeholders as people who eat or engage with the food system in other ways.
What surprises you about this work?
It's been a pleasant surprise to learn about the enthusiasm from people who are working in the farm to school movement. Seeing the passion in community members and organizations has been exciting and wonderful.
How important is the Centre for Sustainable Food Systems to your work?
The CSFS provides a valuable network that involves both researchers and those who are practitioners or working in the field. It's great to be a part of that hub. The UBC Farm itself provides a lot of food literacy education programming. The UBC Farm is also a great model and learning tool for institutional sourcing of local food as they sell produce to UBC Food Services, which prepares meals in campus cafeterias.
What should people know about the CSFS at the UBC Farm that they probably don't know?
They should know that the UBC Farm isn't only a physical space. It also represents a larger network of researchers and outreach activities going on – both activities happening on the ground at the Farm but also those related to sustainable food systems happening beyond the Farm itself.
What's your favourite thing to do at the UBC Farm?
Any given day, within a couple minutes walk, there may be internationally-known researchers installing new monitoring equipment in a field, children potting little seedlings, undergraduate classes recording soil sample data, field staff weighing harvests, and people of multiple generations talking and working together in the Indigenous Gardens. It's really inspiring to be able to take a short walk and see so many people of different ages, interests and backgrounds all doing activities related to food systems in this one pretty small space.